"Therefore let us be grateful for receiving a kingdom that cannot be shaken, and thus let us offer to God acceptable worship with reverence and awe." Hebrews 12:28 ESV
Trailhead Church meets for worship at 9:00 A.M and 10:45 A.M. on Sunday mornings at 131 Hillsboro Ave. in downtown Edwardsville, IL. NOTE: On Sunday, January 28th we will meet for one service at 10am at Edwardsville High School. More info here.
When you visit Trailhead, you can expect a relaxed and friendly environment. You will warmly greeted and can grab a cup of coffee on your way to our meeting space. Volunteers will be available to help you sign your kids in to Trailhead Kids. In our service, we will sing, read scripture, and listen to a biblically relevant sermon. We share communion together weekly, and you will be welcome to join us if you are a believer in Jesus (and if not, you are still welcome to come and observe!). We are a diverse community of people who love God and want to share that love with others in real and practical ways.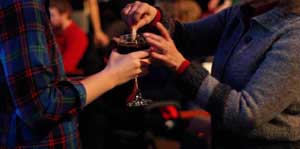 We also have small groups that meet weekly throughout the Metro East to discuss the sermons, study the Bible, pray for each other, and serve together for the good of our community. You can get more information about these groups at our Connection Point in our church lobby, or on our Community Groups page.